HELPFUL HINT
GOING ON VACATION? Don't get burned - come see us first.
Most people save up all year for that one week in paradise. And we all know what that first day in the sun can mean - SUNBURN! By getting your base tan with us first you can enjoy every minute of your vacation without the risk of burning or looking like a ghost in your swimsuit.
Vacations can cost thousands of dollars. A small investment with our salon will guarantee that you enjoy your vacation to the fullest.
​Our tans for cans special has returned once again!! Bring in any non perishable food item from now until November 18th and enjoy half off any single session tan, including the Matrix. All food donations will be brought to the Beacon of Hope. The Beacon of hope community has been providing services for people with developmental disabilities for 30 years and we are proud to continue to donate and support such an amazing organization. As you can see in the picture , we've done really good in the past with collecting food items. We hope to do even better this year with your help!
uvB rays​:UVB rays are also known as the "building" rays or "reddening" rays. These rays are responsible for increasing the production of melanin in your skin. The more melanin you have, the darker the pigments of your skin will become. Along with building up the melanin, these rays also build up your vitamin D levels. UVB rays are great for building your base tan but they can also burn you if you don't start off slow with lower minutes. UVA RAYS UVA rays are also known as "bronzing" rays. These rays penetrate deeper than UVB rays, reaching layers deeper into the epidermis. UVA rays oxidize the melanin in your skin, creating the bronzed or brown look to your tan. Although theses rays typically don't cause burns, overexposure to the rays too quickly can cause you to burn. UVA rays are best if you have a decent base tan already.
matrix - high pressure tan.
What is high-pressure tanning?High pressure lamps produce UV/A and UV/B in different ratio than conventional tanning beds: just enough UV/B to produce the melanin required to tan, and a lot of UV/A to exidize that melanin and turn it a golden brown. What is better? High-pressure tanning…or low-pressure tanning?Studies show that a combination of low-pressure tanning and high-pressure tanning produce the best and fastest results. High-pressure lamps produce a deeper, darker, longer-lasting tan. Depending on your skin-type, a base tan can be established in as few as 1-3 visits, compared to 5-6 or more visits in a low-pressure tanning system. Why are there more Matrix high-pressure tanning system being used than any other brand?The matrix success is attributed to the fact that they have more tanning power than any competitive product. The proprietary filter glass and high-pressure sunlamps used in Matrix tanning systems provide the optimum number of the tanning photons necessary for a deep, dark and long-lasting tan. Why do tanning systems equipped with high-pressure sunlamps create a deeper, darker and longer lasting tan?High-pressure tanning system emit more of the longer UVR wavelengths that penetrate farther into the skin melanosomes located deeper in the skin. Since it takes these melanosomes longer to reach the surface of the skin, the tan lasts much longer and appears deeper and darker. How often do i need to tan to maintain my color?Most people find that they can maintain their tan in a Matrix High-pressure tanning system by spacing the sessions approximately one week apart. Does high-pressure tanning cost more than conventional tanning?Because your tan takes fewer visits to achieve and lasts so much longer, the cost of high-pressure tanning is comparable to conventional tanning.​
Tanning Booths. Top Tips to Use Tanning Beds Safely​
Sunlight provides us with vital energy. A process of tanning strengthens one's immune system, stimulates a production of physiologically active substances and protective functions of skin. Moreover, a bronzed body looks so beautiful! Today, there is no need to go to the south as far as you can get tanned in a tanning bed! JustLady, a woman's magazine is going to tell you how to use a tanning bed safely and enjoy your time spent tanning!Very often people forget about the main reason we go to solarium: strengthening the immune system and rehabilitation. Unfortunately, we do not want to wait for beautiful color skin; our aim is to get tanned as quickly as possible. Well, is it safe? What is the principle of solarium method for tanning? Lamps of different types of solariums differ in power; however, in order to confirm a certain modification of a devise, it should be tested for the duration a man with a normal skin can get an optimal amount of ultraviolet radiation. Conditionally, such rate is indicated as 4 MED, i.e., minimal erythermal dose. They say that if you want to get tanned in solarium quickly, it is necessary to increase the time of the tan duration or choose a device of high lamp capacity. Actually, this is a misconception. Characteristic data (time and power) are not interchangeable.A recommended rate of minimal erythermal dose depends on your type and skin color. Hence, specialists of solarium define a procedure duration and session frequency. Also, many people are trying to narrow the gap between sessions in order to get tanned more quickly. It is important to know two main facts: After the procedure, pigmentation shows within 1-8 hours and lasts for one or more days. And there is no need to visit a solarium every day. In the process of tanning, protein output speed is being disrupted, and if there is some time for its recovery, the tanning procedure is of use. Moreover, protective functions of skin go up, it becomes more stable to solar burns (up to 40%). In case you take sun baths too often, there is no time to recover protein synthesis at all. As a result, it mattes; such process increases mutations and it leads to skin diseases and body dysfunction.Several hours hour after the procedure you may feel skin tension or small redness may appear. It indicates you have received maximum admissible dose of ultraviolet rays. Unfortunately, one can ignore this fact and the duration of the next procedure will be the same. It is not recommended. Furthermore, it is desirable to shorten the next session a bit. ​
Sun in the City has been helping the residents of Leominster, Fitchburg, Lunenburg and Sterling its surrounding communities of Central Massachusetts look and feel amazing.
We pride ourselves on the cleanliness of our beds and rooms, our friendly well trained staff, and providing a comfortable relaxing environment for everyone that visits.
We are an upscale tanning salon giving our guests the best in tanning & lotion products.
Premier Tanning Center in Leominster MA
Full Service Indoor Tanning for both Women and Men
Proudly tanning you since 2004 and repeatedly voted #1 Tanning Salon.
36 Central Street
Leominster, MA 01453





​Half off ANY single session tan when you bring in any non perishable item such as a canned good, cereals or rice.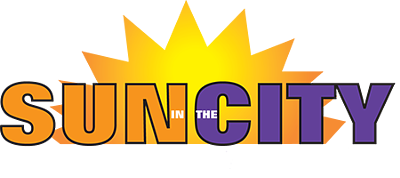 Give Sun In The City a call for more information or to
set up your appointment! 978.537.0096​